Legendary Member
Orange Room Supporter
Technology
Online trolls and fake accounts poison Arab social media
By BBC Monitoring The world through its media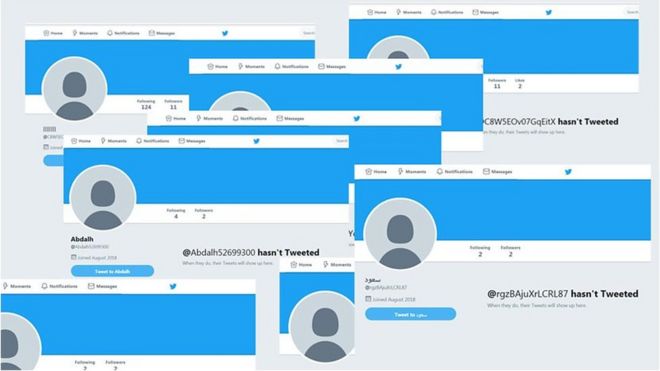 Thousands of fake Twitter accounts are said to be artificially driving online reputation to boost false narratives
Social media fraud continues to fuel a plague of disinformation in the Arab world.
Despite Twitter's recent announcement that it had suspended over 70 million fake accounts, networks of suspicious accounts have been used to manipulate discussions to favour specific agendas.
Conventional signs of social media popularity - such as trending topics and numbers of followers - have been exploited and marred by suspicious accounts seeking to control narratives in disputes across the region.
Amid ongoing political and social conflicts in the Arab world, it appears that concerted efforts are being made to poison online discourse, particularly in the
year-long spat between Qatar and its Gulf neighbours
.
'Fake' followers
Trolls engaging in the propaganda war between Qatar and its neighbours rely on fake accounts to increase their followers to project credibility and lure genuine users to follow them.
Some of these trolls, which often have patriotic names, have tens of thousands of followers and focus their activities on retweeting derogatory remarks against opponents
However, a BBC investigation found out that a noticeable number of their followers were fake, and their sole purpose appeared to be boosting the credibility of larger accounts.
For example, the Saudi-based account @m6mp3, which identifies itself as a media platform seeking to expose Qatar's "support for terrorism and corruption", has over 41,000 followers. After the BBC examined 1,000 random followers of the account, it was discovered that around 350 of them had never posted a tweet, nor have profile pictures.
Similarly, anti-Doha @qatarileaks, has over 55,000 followers, but a sample of 1,000 followers showed 23% were inactive.
Similar activity has also been noted on pro-Qatar accounts.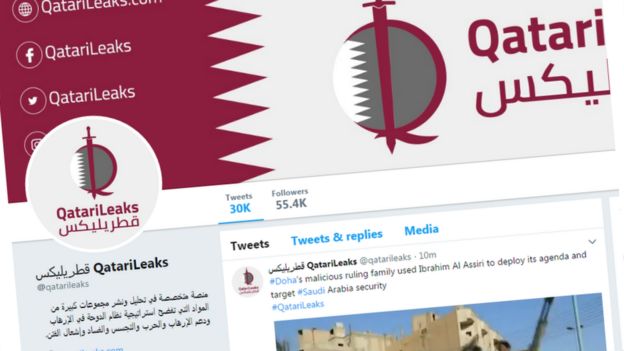 Image copyright Twitter Image caption QatariLeaks has over 50,000 followers, but follows no-one
Promoting hashtags
Fake accounts have also contributed to the promotion of trending Twitter hashtags.
Often they will post a hashtag in a series of consecutive tweets over a short period of time to give it the boost needed to be recognised by Twitter's algorithms.
After media reports of a meeting between Qatari and Israeli officials in Cyprus, anti-Qatari trolls launched the hashtag "Cyprus meeting exposes Qatar and Israel", with many comments critical of the "conspiracy" against Arabs and Palestinians. The hashtag appeared in more than 7,000 tweets and trended in Qatar and the UAE last week.
Some "fake" accounts tweeted the hashtag many times in just a few minutes in order to give it a boost. One account retweeted the hashtag four times over the course of just four minutes on 24 August. Those tweets were deleted the next day.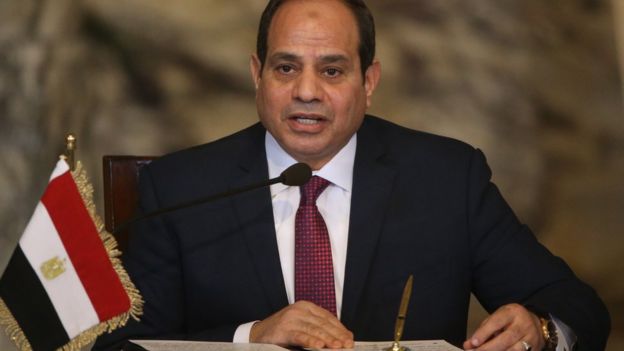 Are fake likes boosting the Egyptian president's online reputation?
Fake likes
Fake accounts have also been part of a trend to increase the number of likes on a post in order to make it stand out from the crowd.
Posts by the official Twitter account of Egyptian President Abdul Fattah al-Sisi in August attracted an average of 2,000 to 3,000 likes each. However, after checking the accounts that liked the posts, suspicious accounts appeared in the mix.
Most of these accounts have never tweeted, nor have profile pictures, but their activities appeared only to promote pro-Sisi posts.
One user liked eight posts, six of which were from President Sisi's account.
Another liked 10 posts, including five by Sisi's account and two by the official account of Egypt's Ministry of Interior. But it's not possible to tell who controls these accounts, and to what purpose.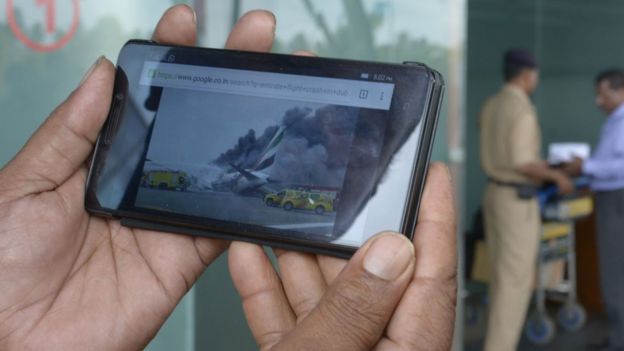 Image copyright AFP Image caption
The crash of Emirates Flight 521 in August 2016 was presented as a successful missile attack in a fake video
Planting disinformation
With every breaking news or announcement in the Arab world, trolls step in to plant and spread disinformation online.
After Yemen's Houthi rebels claimed on 27 August that they attacked Dubai International Airport with a drone, fake visuals flooded discussions on social media.
YouTube channel Shasha 24 posted a video, branded with the channel's name, showed smoke filling the sky at Dubai airport, fuelling rumours that it had been attacked.
Shasha 24, which has only 13 subscribers, was founded in 2013 and has only 11 videos on its channel - all pro-Houthi videos, and all posted over the past two weeks.
Eventually, the faked video was shared by pro-Houthi Twitter users, which increased the video's reach by sending it out to their thousands of followers.
The video proved to be dramatic footage of an Emirati flight that crash-landed at the Dubai airport in 2016,
in which all on board survived
.
The fake footage was already being spread on social media long before it was debunked, illustrating the challenge facing those tasked with fighting disinformation.
BBC Monitoring
reports and analyses news from TV, radio, web and print media around the world. You can follow BBC Monitoring on
Twitter
and
Facebook
.