This is the best comedy show ever in my opinion. The way the plot is done, and the theatrical approach it takes are just pure genius.
Featuring:
Jerry Seinfeld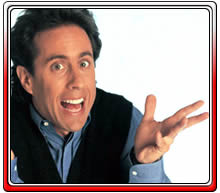 Cosmo Kramer
George Costanza
Elaine Bennis
And of course there are plenty of other secondary characters, and each has an amazing character.
Share with us your favorite Seinfeld scenes.