Today with the ongoing crisis, awareness becomes a priority for many and people starts questioning and looking for real answers!
So I would like to take this opportunity for us to dedicate this thread to the debt crisis and share your expertise, your views, articles, documentaries etc on this topic!
Now who is responsible for the debt crisis, how is the debt related to the international monetary system and international bankers or are they separated from each other?
Is there any political side in Lebanon who is against the debt policies if yes, then who and are they offering any alternatives or are they all responsible for it? Starting from "Hariri
sm
" as being the head of the snake and the biggest enemy on this front against the people?
The debt, to what end? isn't it enslaving many nations arround the world and today the most
actual
enslaved people in the world are the Americans or AKA the "Free World" ?
What is the real agenda behind these debts? Who are the real "lenders" behind the scenes and the public faces of the "lenders" ?
Can Lebanon get out from its debt crisis or is a one way ticket, a sinkhole that once you fall in it there is no going back?
And how is the debt related to the political corruption in the country? Are the debts the main door for corruption?
How do the corrupt politicians/bankers make money from these debts? How can you deal with such politicians/bankers who are not but a tool used by the "lenders"!?
Are the debts related to national resources thefts ? If yes, then is theft carried through debt interests or by other means?
Now the Central bank of Lebanon? What are their responsibilities? Are the Lebanese the real owners of the Lebanese central bank?
What are their monetary policies how is it issued in reality?
There are so many questions and I could go on and on forever but these are some questions, I think we should all raise up despite us being ignorant in this same topic..
I might be biased in this because I'm against all loans with interest after all it is usury and goes against all my religious beliefs and usury is unethical on all levels and so it was for many centuries even in Christianity it was a great sin but how did usury stop from being a sin?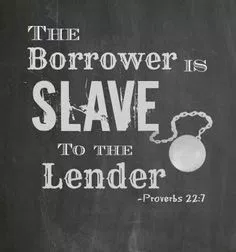 في أمانِ الله
PEACE