Jo
Administrator
Master Penguin
Nothing really exciting happening these 2 past couple of days.
. Hasakah has cooled down and the SAA/NDF + YPG/J are now re-controlling most of the town.
. Daraa offensive is stalling also due to heavy resistance from the SAA and NDF there.
It is early to think that the Southern Front's offensive has failed but i don't see a lot of options for the opposition down there.
Lets analyze this a bit:
1. They tried going east towards Suwaida but were repelled by the Druze there; although they didnt go full force but i dont see the point of it anyway.
2. They tried going west towards Qunaitra (Hadar), also the offensive failed there, although they besieged the city for a while, but the SAA/HA front with the help of the Druze managed to break this siege.
3. They tried to enter Daraa and take it but sustained very heavy causalities with more than 100 dead and several vehicles destroyed.
Only one way now they can go, which is north towards the Ghouta pocket, i really doubt they would try that. The regime would defend this area very heavily and i am not sure they can mount a good offensive from there.
Map of southern Syria now so you can guys understand what I am talking about:
So as we stand now, the last SF offensive result was:
1. They made it into a very small part of the industrial zone and captured the State Security Branch building. They also gained some ground here and there but they are not worth talking about.
2. They lost their momentum, a lot of men and the Idlib victory spirit.
Map of Daraa now: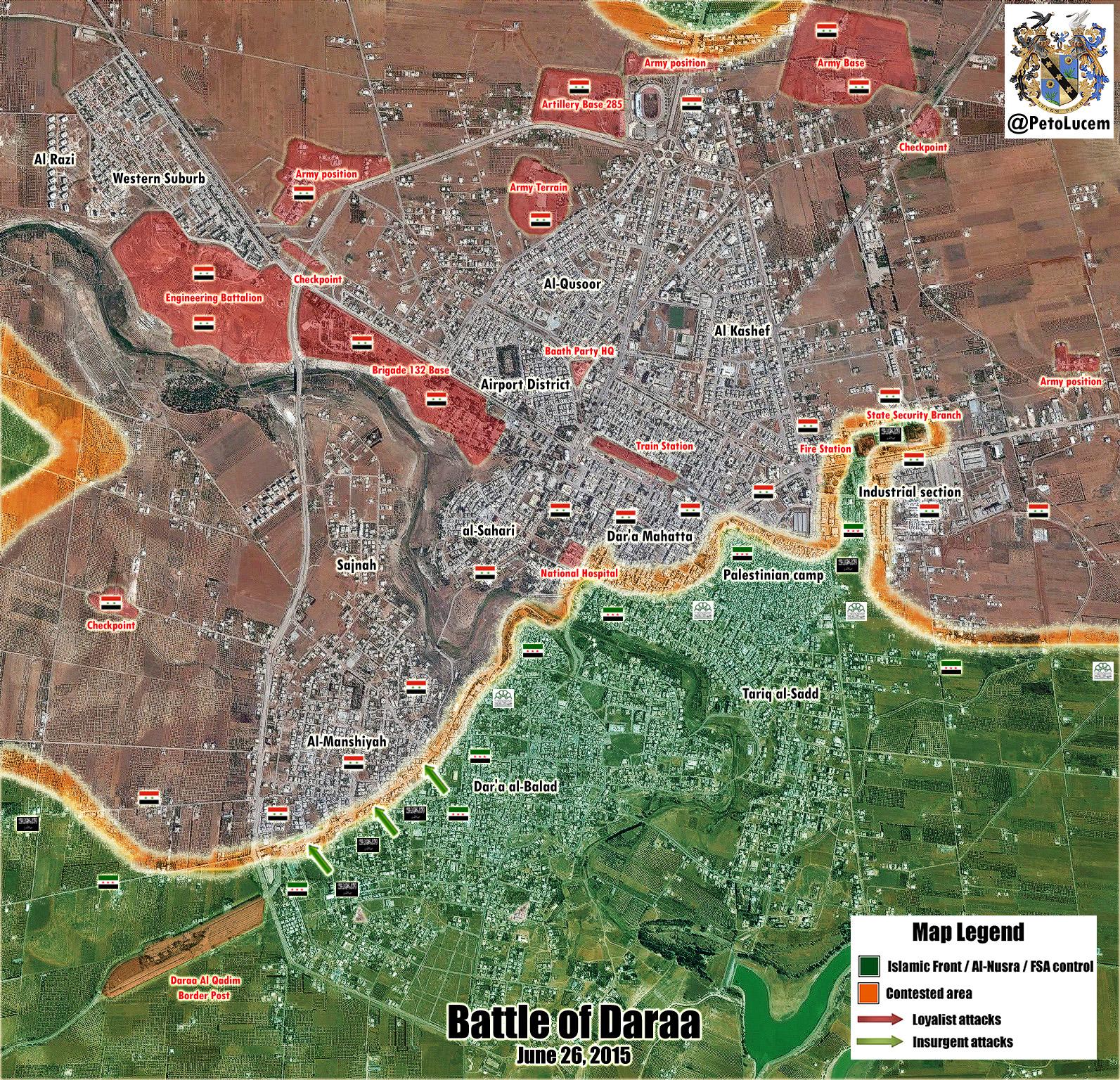 Solutions ?
1. They can try allying themselves with the more Islamist groups (like Jaysh al Fatah). But this will mean that even if they take the city, the Islamist group will govern it.
2. They can continue these little skirmishes here and there until a regional event change the balance of power towards them.
Anymore solutions in sight ?