J. Abizeid
Well-Known Member
The Syrian conflict: Is it Domestic or International? ​
Hillary Clinton said today:
Russia & China will 'pay price' for supporting the Syrian government.
Syria crisis: Clinton lambasts China and Russia as Annan urges unity | World news | The Guardian
Does that sound like a domestic or an international conflict in Syria?
Does it mean Russia and China have personal vendettas against the Syrian citizens and Hillary Clinton is a companionate person; her vocation is the well being of the Syrian people because in her opinion they desperately need and deserve democracy more than the Bahraini people do?
What would be the answer if we were to go back a couple years in time and asked the Syrian people if they're better off today than back then or, if they can start all over again, would they chose the same path?
What about personal liberties for all groups and minorities in Syria? Were they ever any worse than the ones in the Gulf counties who are financing the conflict in Syria and playing cheerleaders to the West and Israel?
Does anyone believe the Syrian people will be better off when the dust settles based on the results we've seen so far in other Arab countries following the demise of their old regimes like Iraq, Libya and Egypt?
How about if we accept the fact that the conflict in Syria is an international struggle between superpowers? In other words, slogans like democracy and human rights are nothing but pretexts to justify foreign involvements for international goals.
Democracy must be chosen by the people. It can never be imposed from the outside and the outsiders who pretend they're there to help know real well why they're there for. Unfortunately, many of those people who are concerned don't know it…
Let's use this thread for mature political discussions involving the unrest in the Middle East in general, Syria in particular and the spillover onto Lebanon.
(For all other purposes and to the bean counters and bookkeepers who enjoy recording the number of daily deaths and displaying graphic images, please chose another thread.)
[vbtube]GlcJjMEiHiI[/vbtube]
Moscow and Beijing will be punished for supporting the regime of President Bashar Assad in Syria, US Secretary of State Hillary Clinton harshly stated at the "Friends of Syria" meeting of over 100 Western and Arab nations in Paris on Friday.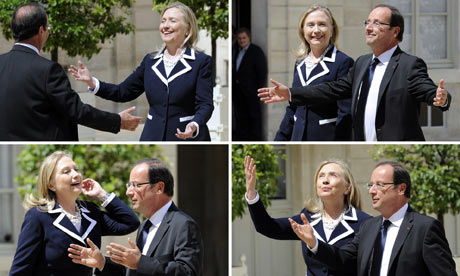 Syria crisis: Hillary Clinton is welcomed by the French president, François Hollande, before a meeting at the ةlysée Palace in Paris.